Learning Usui Reiki and being able to work with Reiki energy, actually grows people in their own unique way. With step by step follow along guidance, you will learn how to
Connect with Reiki energy
Understand how Reiki works and what hand positions to use for healing of yourself, loved ones, clients, pets and the planet
Calm your mind and clear energy blocks with Reiki for self help and for helping others do the same
Use Reiki symbols for protection, mental and emotional balancing and for being able to send Reiki over distance to other countries
Use Reiki for healing of past traumas (without having to relive the event), for healing of past timelines, past lives and for setting up ease of future events
Use Reiki to send healing to passed over loved ones including pets
Understand how the Reiki attunement process works for each degree / level of Reiki
Be able to attune others to all 3 degrees / levels of Usui Reiki
Work with the Master symbol as part of your Usui Reiki Training completion
Gain half price access to "Building a Reiki business". This course teaches you how to run your Reiki business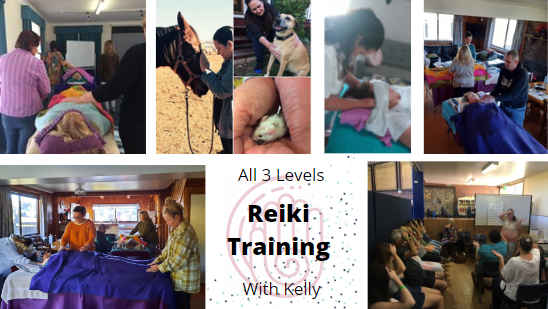 Since 2014, I have been training people into this beautiful healing modality of Reiki. These are snippets of some of my live workshops. I have now taken all of this experience over the years and put it into three levels of training online. I love interacting with my students during the courses as they grow through energy shifts. If you've ever wanted tools to work on yourself deeply, and be able to help your loved ones to do the same, then this course is for you.


Package Contents
Get a taste for this package first. Take a look at each of the courses below and sample the many free previews. Sort of like a "try before you buy". When you're ready to make your purchase, buying this bundle will save you time and money and you'll still be able to contact me throughout your training at any time, with any questions that will arise. I'm here to help you succeed in your Reiki journey.

Frequently Asked Questions
When does the course start and finish? The course is open and available for you to start whenever you like. Go through the course at your own pace day or night, whatever times suit you best. There is no end date. You will have life-time access.
What if I need help with something during the course? There is a comments section at the end of each lecture. Kelly reads all questions and gives you explanations. Your teacher is with you every step of the way.
How long do I have access to the course? How does lifetime access sound? After enrolling, you have unlimited access to this course for as long as you like - across any and all devices you own. Your tuition includes all future upgrades to the course.
What is your refund policy? Try the course risk free! You are covered by my 30 day money back guarantee. If you don't like the training, get your money back. You've got nothing to lose except heavy energetic baggage ;)
How does the attunement work? It is a distance Reiki attunement. You simply get comfortable in a chair, play the attunement video after you have completed all of the training, follow along with my voice as we connect on an energetic level, and watch me do the attunement on your energy via the pre-set attunement video.
How do I get my certificate? Students who wish to receive their certificate and lineage with this course, will need to make their comments on certain lectures when requested. These comments and sharing of experiences will be seen by your teacher and classmates and will go toward your certification which I will send to you personally after you have completed everything. After all, Reiki is not about a piece of paper. It's about experiencing energy and growth in your own unique way.
Do you have refresher courses? This course can be used as a refresher course. Once you purchase it, you have it for life and can refer back to it as many times as you like. You can also go through the attunement process for a booster whenever you feel the need.
Can Reiki really be taught online? Absolutely! Instead of paying thousands of dollars for an in-person course that can take up an entire weekend, (where you can potentially forget everything when you walk out the door), you can take all the time you need to go through the material and have access to your teacher and classmates along the way.

Is there a lot of reading to do? I'm terrible at reading. There is reading involved. However, there are audios in every lecture that will read the text to you. Just click play and follow along or sit back and listen.